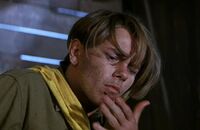 "The subject of this article was cancelled."
This article covers a film, book, comic or game that was cancelled or replaced by another product. Cancelled material is usually not
canon
; however, aspects of such material sometimes find their way into later products and thus become canon. You have been warned.
"Newhall, Late August 1920" was an unproduced episode of The Young Indiana Jones Chronicles, which would have been part of the third season of the series. The subject of the episode would have been filmmaking, with the theme of "Overcoming Obstacles".
A follow-up to the events of fellow unmade episode "Hollywood, Early August 1920", Indiana Jones needs money to return to the University of Chicago and goes on location with director John Ford to film a western outside of Los Angeles entitled Six Steps to Hell. After the accidental death of one of the production's stars, Jones is given a major role in the picture although he requires acting lessons from Ford and Harry Carey. Meanwhile, Jones continues his relationship with the script editor he met in the previous episode. Wyatt Earp was also planned to be featured in the episode which took the form of a classic two-reeler story, with a doomed love story, western footage, cowboys and stunts.
While the material was filmed, the TV show's cancellation meant that it didn't see broadcast until it was edited into Young Indiana Jones and the Hollywood Follies as a television movie and was later made available on home video with The Complete Adventures of Indiana Jones on VHS.
External links
[
]