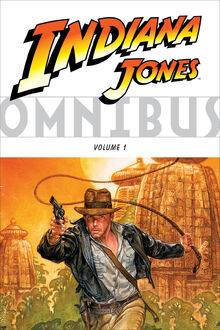 The Omnibus series is part of a publishing program by Dark Horse Comics to collect together long out of print or otherwise uncollected issues in an affordable sized compilation. Each volume collects about 14-16 issues in one book.
The Indiana Jones line began with Volume 1 on February 6, 2008. Prior to this, the only issues to be brought out in trade paperback (TPB) form were all comic adaptations: The first three movies and the Indiana Jones and the Fate of Atlantis video game. Volume 1 and Volume 2 contain the the entire run of original Indiana Jones stories from Dark Horse Comics.
The next three volumes, subtitled "The Further Adventures", released in 2009-2010, compile the stories from the 1980s Marvel Comics series The Further Adventures of Indiana Jones, and also include the comic adaptations of Raiders of the Lost Ark, Indiana Jones and the Temple of Doom and Indiana Jones and the Last Crusade.
Volumes
[
]