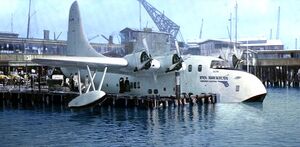 Pan American Airways (abbreviated as Pan Am) was an American airline operator. They operated the Pan Am Clipper, the first transoceanic passenger service, in the 1930s.
History
[
]
Indiana Jones frequently traveled on Pan Am flights, as recognized by one of their employees, as they were the fastest way to travel around the world. Jones kept a ticket of his set of flights in 1936 between San Francisco and Kathmandu (via Honolulu, Wake Island, and Manila) in his journal, having paid $951.60 for the trip.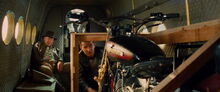 In 1957, Jones and Mutt Williams traveled on a series of Pan American planes as they flew from New York City to Nazca, Peru, stopping in Havana, Mexico City and Cusco. They started on a DC-3, and their final plane was a small Antonov An-2 cargo biplane, just large enough to carry the pair and Mutt's motorcycle.
During the flight, Williams took care of the motorcycle that was stowed away in a wooden frame on the airplane. In the meantime, Jones set on a crate and observed Williams for a while before he pulled his hat over his face and took a nap. Finally, the plane flew over the Nazca Lines and landed at Nazca airport, where the pair disembarked.
Behind the scenes
[
]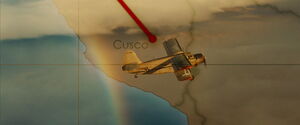 James Rollins' novelization of Indiana Jones and the Kingdom of the Crystal Skull does not mention the airlines used, but mentions two planes: DC-3 and Antonov An-2. In the movie, the aircraft have the PAA logo on them. The real Pan Am airline never used the Soviet-made An-2, although the plane in the film was an An-2.
During the flight sequence to Peru in Crystal Skull, the planes' progress is depicted with the traditonal red line on a map. The flight path starts in New York and ends in Cusco, whereas the journey continued on to Nazca.
Appearances
[
]
Sources
[
]
External links
[
]