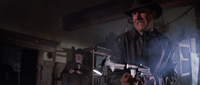 "...don't call me Junior!"
The title of this article is a nickname. This article is about a canonical subject that lacks a proper name, and is known only by its nickname or callsign. Please see the relevant discussion on the
talk page
or explanation in the article itself.
"Little girl caught a stray bullet. Heart stopped twice on the way over"
―Paramedic #2
Paramedic #2 was a American medical professional working in the New York City area in the early 1990s. In 1992, he arrived at a Staten Island hospital with several other paramedics, bringing in two victims of gunshot. He led the gurney of the second victim, a girl who was a bystander in gang violence. After telling Dr. Jeffers the situation, he wheeled the patient out of the waiting room into an operating room.
Holden Hansen played the role of Paramedic #2 in the opening bookends segment of one episode of The Young Indiana Jones Chronicles: "German East Africa, December 1916".
While the role of Paramedic #2 is credited in Oganga, The Giver and Taker of Life, the character does not actually appear in the film, as the bookend scenes of the TV episode was cut when the film was assembled.
Community content is available under
CC-BY-SA
unless otherwise noted.