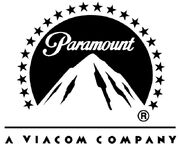 Paramount Pictures is an American movie and television company. It distributed all four Indiana Jones films.
Its contract with Lucasfilm Ltd. (LFL) had meant that the company would distribute a fifth film should one be made. However, LFL's acquisition by The Walt Disney Company in October 2012 led to Disney negotiating a new deal with Paramount.[1][2]
Paramount logo
[
]
Each of the four Indiana Jones films begin with the Paramount logo, a mountain summit, which fades in to match the opening shot of each film, a representation of a mountain peak:
Other Indiana Jones sources have referenced the Paramount logo motif. The Lucasfilm Games logo of Indiana Jones and the Last Crusade: The Graphic Adventure fades into that of the "Lucasfun Circus". Indiana Jones and the Sargasso Pirates begins with the first panel showing the tip of an iceberg. Indiana Jones and the Emperor's Tomb opens on a bell shaped stone head in Ceylon and the opening shot in the Wii/PS2 version of Indiana Jones and the Staff of Kings includes a solitary mountain peak near the Sudan Temple that Indiana Jones is exploring.
Notes and references
[
]
External links
[
]