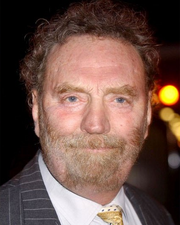 Pat Roach
(May 19,
1937
- July 17, 2004) was an English actor and professional wrestler who appeared in the first three
Indiana Jones
movies in several roles, generally as physically imposing henchmen who engage
Indiana Jones
in physical combat. In addition to his work on the
Indy
series, he portrayed General Kael in
Lucasfilm
's 1988 production
Willow.
 He also appeared extensively on British television throughout his career, and is perhaps best known to UK audiences as "Bomber" Busbridge in
Auf Wiedersehen, Pet
. He further appeared in multiple productions based on the works of pulp writer Robert E. Howard, with roles in
Conan the Destroyer
(1984),
Red Sonja
 (1985), and 
Kull the Conqueror
(1997). Roach died of throat cancer in 2004.
His Indy characters include both the giant Sherpa and the giant German mechanic in Raiders of the Lost Ark, the chief Thuggee guard in Indiana Jones and the Temple of Doom and a Gestapo agent in Indiana Jones and the Last Crusade.
According to the article "50 Fascinating Facts About Indiana Jones and the Temple of Doom" in Indiana Jones: The Official Magazine 3, Roach played two other characters in Temple of Doom: the gong striker of Club Obi Wan and the Thuggee assassin in Indy's room. However, The Complete Making of Indiana Jones identifies the gong striker as having been played by stuntman Bill Reed, who is listed in the film's credits, while online discussion has attributed the part to fellow wrestler Don Stansauk, aka Hard Boiled Haggarty, casting doubt on the accuracy of the article.
Roach's role is fulfilled by Igor Jijikine as Antonin Dovchenko in Indiana Jones and the Kingdom of the Crystal Skull.
External links
Edit
Community content is available under
CC-BY-SA
unless otherwise noted.