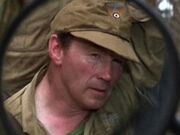 Peter Alexander Diamond (born August 10, 1929 in Durham, England, UK; died March 27, 2004 in Wakefield, Yorkshire, England, UK) was a stuntman, swordmaster, fight arranger, second unit director and actor on over 100 motion pictures and television series, often based in the UK.
Like many of the stuntmen on the first three Indiana Jones films, Diamond portrayed various characters in George Lucas' original Star Wars trilogy as well. Diamond's other credits include various Hammer Horror films, The Fifth Musketeer, Highlander (as well as the 1992 television spin-off of the same name), Sword of the Valiant: The Legend of Sir Gawain and the Green Knight (with Sean Connery), Lionheart, The Princess Bride, Who Framed Roger Rabbit?, Red Scorpion, the 1990s Zorro TV series and the UK TV shows The Bill, The Vice and Heartbeat.
Diamond worked as the stunt arranger and as a stunt performer in 1981's Raiders of the Lost Ark. For the latter role, he could be seen as one of the Nazis aboard the truck that Indiana Jones ambushed while on horseback and a Cairo Henchman during the scene of Indy fighting off some thugs in Cairo.
External links
[
]