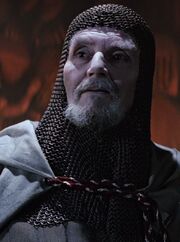 Robert Eddison (1908 - 1991) was a classically trained British actor who played the tragic ferryman in The StoryTeller episode "The Luck Child."
Born in Japan to British parents, Eddison was known for his resonant, baritone voice and long lean figure. He performed William Shakespeare and other classics, noted for his Hamlet at the Old Vic, and later playing the comic roles of Feste and Sir Andrew Aguecheek in Twelfth Night, and King Lear on the New York stage. He was also a familiar figure in plays by Ibsen, Chekhov, and Sophocles, and played Canon Chasuble in Oscar Widle's The Importance of Being Earnest.
Eddison also made his mark in radio, in countless BBC dramas through the decades, with some of his last roles including Death in The Canterbury Tales and parts in an adaptation of Japanese Noh plays. His film career was limited, but included a supporting role in Peter Ustinov's 1948 comedy Vice Versa, the college president in the 1991 film American Friends, and a notable cameo in Indiana Jones and the Last Crusade as the ancient Grail Knight, warning adventurers to choose wisely.
External links
[
]