"Dr. Jones, what you look at?"
This article would greatly benefit from the addition of one or more new images. Please
upload
a relevant image and place it here. Once finished, this notice may be removed.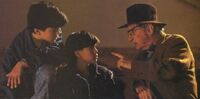 "Listen, kid. Who's tellin' this story: me or you?"
This article is non-
canon
. This article covers a subject that has been deemed non-canon by either the author or the
Indiana Jones
licensees, and thus should not be taken as a part of the "real"
Indiana Jones
universe.
Shanghai Hoodlum 1 was one of Lao Che's Goons. He was armed with a machine gun, but even with his heavy weaponry he was no match for Indiana Jones.
Community content is available under
CC-BY-SA
unless otherwise noted.