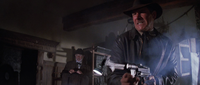 "...don't call me Junior!"
The title of this article is a nickname. This article is about a canonical subject that lacks a proper name, and is known only by its nickname or callsign. Please see the relevant discussion on the
talk page
or explanation in the article itself.
"That's my boyfriend!"

―

The Slugger towards Mutt Williams
The "Slugger" was a student at Marshall College and the girlfriend of Joe College.
Biography
Edit
A Marshall College student ate with her letterman boyfriend and another at Arnie's Diner in 1957. She was sat with the pair when greaser Mutt Williams, in conversation with Professor Indiana Jones at the next table over, leant in and dipped his comb into a drink at the student's table. She pointed the act out to her boyfriend and their companion. They all looked over to Williams and Jones who showed no reaction then turned back to their conversation and the matter was left there.
Later, however, her boyfriend was suddenly punched by a departing Williams as he got up to leave. She was quick to retaliate and hit back at Williams, which led to a fight breaking out between the diner's patrons: a diversion orchestrated by Jones to allow his and Williams' escape from a pair of KGB agents that had been observing them.
Behind the scenes
Edit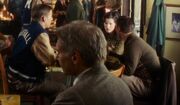 The Slugger was played by Sasha Spielberg in Indiana Jones and the Kingdom of the Crystal Skull. In real life, Spielberg is daughter of Indiana Jones director Steven Spielberg and actress Kate Capshaw, who played Willie Scott in Indiana Jones and the Temple of Doom.
In James Rollins' novelization, the Slugger is absent from the Arnie's Diner scene, so Joe College immediately hits Mutt Williams in retaliation for the latter's sucker punch.
In LEGO Indiana Jones 2: The Adventure Continues, the Slugger appears in a cutscene speaking with the Janitor at Arnie's Diner instead of Joe College as all Lettermen have the same stock LEGO minifigure. When the fight starts, she slaps the Janitor in the face and later punches one of the Russian Suits, although she is not seen later in the gameplay of the level itself. She appears once more, however, walking with her boyfriend when Jones and Williams are making their escape from the Russian Suits. Upon discovering the Russian Suits blocking a street, Indy and Mutt pass across the Slugger and her boyfriend, causing her boyfriend's fake moustache to land on her face, much to the amusement of both.
Appearances
Edit