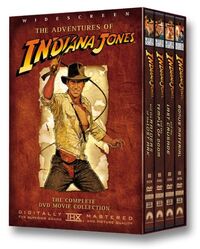 The Adventures of Indiana Jones – The Complete DVD Movie Collection is a DVD box set which contains the first three Indiana Jones feature films, the product being complete at the time of its 2003 release.
It was released in the United States on October 21, 2003 in both widescreen and fullscreen formats. The box set contains four discs, with the first three discs containing one film each, and the fourth disc which holds the bonus features including the feature-length Indiana Jones: Making the Trilogy documentary.
Each film has been digitally remastered by Lowry Digital and THX, and in the US is accompanied by 5.1 Dolby Digital English, French, and Spanish audio tracks as well as subtitles. The UK instead has English, German, Czech and Hungarian audio tracks with subtitles in those languages plus Dutch, Polish and Turkish, with only the English options existing for Temple of Doom. Australia instead has English, European Spanish and Catalan audio with subs in English, Spanish, European Portuguese, Greek, Hebrew, Slovene, Croatian and Serbian.
Contents
[
]
Cover gallery
[
]
See also
[
]
External links
[
]