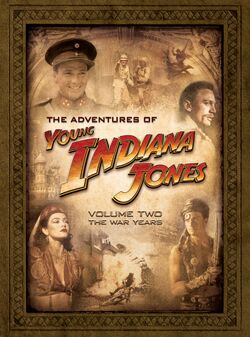 The Adventures of Young Indiana Jones: Volume Two: The War Years is a DVD box set, and is the second of three volumes of the The Adventures of Young Indiana Jones, the rebranding of the television show The Young Indiana Jones Chronicles. It was released in the United States on December 18, 2007.
The box set contains 9 discs, including eight chapters, as well twenty-six in-depth companion documentaries, interactive game & timeline, and an historical overview. As the subtitle The War Years implies, it contains nearly all the episodes in which young Indiana Jones participates in World War I.
Disc One:
Disc Two:
Disc Three:
Disc Four:
Disc Five:
Disc Six:
Disc Seven:
Disc Eight:
Disc Nine:
Community content is available under
CC-BY-SA
unless otherwise noted.