The Complete Making of Indiana Jones is a behind-the-scenes book by Laurent Bouzereau and J. W. Rinzler.
Author J.W. Rinzler had previously written The Making of Star Wars for Lucasfilm Ltd. As part of the research for the new book, Bouzereau conducted interviews with all of the main cast members and much of the crew, while Rinzler located many archival materials.[1]
In the US, the book was only made available as a softbound edition. A hardback version was available in the UK.
Publisher's summary
[
]
→

This article is a stub. You can help us by adding to it. Check out the

talk page

for hints on what needs to be done.
Contents
[
]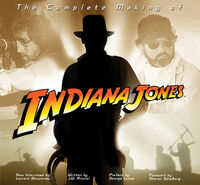 Notes and references
[
]
External links
[
]