"The Cuban Connection!" is a three-part story presented in issues 20, 21 & 22 of Marvel's Further Adventures of Indiana Jones comic book series. The series is named after the first installment, published in August 1984. Part two (titled "Beyond the Lucifer Chamber!") followed in September, and part three ("End Run") concluded the story in October.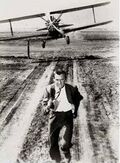 The cover of issue 20 ("The Cuban Connection!") is an homage to Alfred Hitchcock's classic film North by Northwest.
Community content is available under
CC-BY-SA
unless otherwise noted.