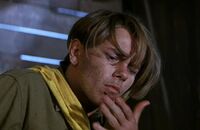 "The subject of this article was cancelled."
This article covers a film, book, comic or game that was cancelled or replaced by another product. Cancelled material is usually not
canon
; however, aspects of such material sometimes find their way into later products and thus become canon. You have been warned.
The Further Adventures of Indiana Jones 35 was to be the thirty-fifth issue of Marvel Comics' The Further Adventures of Indiana Jones comic. Marvel preview magazine Marvel Age announced that Linda Grant, Steve Ditko and Danny Bulanadi — writer, penciller and inker respectively on previous issues — as the creators on the book but the comic series was canceled after the thirty-fourth issue.
According to the Readers of the Lost Ark letters section of issue 32, the story would reveal where Marion Ravenwood had gone after leaving Indiana Jones in issue 25, "Good as Gold".