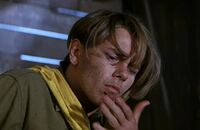 "The subject of this article was cancelled."
This article covers a film, book, comic or game that was cancelled or replaced by another product. Cancelled material is usually not
canon
; however, aspects of such material sometimes find their way into later products and thus become canon. You have been warned.
The Lost Diaries of Young Indiana Jones was a proposed series of illustrated, educational hardcover books detailing Indiana Jones' adventures in The Young Indiana Jones Chronicles from a first-person perspective. The first entry, by Eric D. Weiner, was scheduled to be released in October 1994. The project was cancelled before any books reached store shelves, but advertisements did appear in contemporary magazines.
Publisher's summary
Edit
At long last, the lost diaries of young Indy have been found! Here are the chronicles, artifacts, maps, clippings and souvenirs from Indiana Jones' famous first trips. Book I is packed with fascinating facts about Egypt and Arabia: pyramids, mummies, hieroglyphics, tomb robbers, bedouins, sandstorms, oases, camels, cobras, the afterlife, and much, much more. Bet there's a catch. The book is also dotted with loopholes and missing information, and it's up to the reader to solve the puzzles and mysteries. And the there's the greatest mystery of all: years ago, Indy learned of the famous lost city of El Dorado, the Land of Gold! He hid the answer throughout his diaries. But where?
Community content is available under
CC-BY-SA
unless otherwise noted.