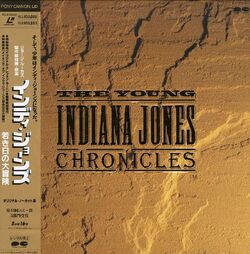 The Young Indiana Jones Chronicles was a LaserDisc box set (Reference PCLP-00418) released by Pony Canyon in Japan on April 21, 1993. The eight discs contain fourteen episodes of the television series (the same episodes also adapted by Bungeishunjū in Japan), two of which ("Peking, March 1910" and "Paris, October 1916") had not yet aired in North America at the time of their release, along with the 24-minute behind-the-scenes documentary Young Indy: Around the World.
Both the episodes and the documentary are formatted in NTSC and presented in English with onscreen Japanese subtitles. The set also includes a ten-page colour booklet with a "Young Indiana Jones World Map" detailing the locations visited and historical figures encountered by Indy in these specific stories.
This was the first home video release in any format to arrange episodes in their narrative chronological order, foreshadowing the approach later taken by The Adventures of Young Indiana Jones, but there were no further LaserDisc releases to include the remaining episodes originally produced for ABC and no LaserDisc releases at all in the United States or any territories other than Japan.
Disc
Episodes
1
Side 1: Young Indiana Jones and the Curse of the Jackal ("Egypt, May 1908")
Side 2: Young Indiana Jones and the Curse of the Jackal ("Mexico, March 1916")
2
Side 3: "Vienna, November 1908"
Side 4: "British East Africa, September 1909"
3
Side 5: "Peking, March 1910"
Side 6: "London, May 1916"
4
Side 7: "Somme, Early August 1916"
Side 8: "Germany, Mid-August 1916"
5
Side 9: "Verdun, September 1916"
Side 10: "Paris, October 1916"
6
Side 11: "German East Africa, December 1916"
Side 12: "Congo, January 1917"
7
Side 13: "Austria, March 1917"
Side 14: "Barcelona, May 1917"
8
Side 15: "Petrograd, July 1917"
Side 16: Young Indy: Around the World
Community content is available under
CC-BY-SA
unless otherwise noted.