"He that enters my tomb I shall burn with my fire."

―Inscription within Kha's tomb
The Tomb of Kha was the burial place of ancient Egyptian engineer/architect, Kha. The tomb was discovered in 1908 by Howard Carter. Among the first people to enter the tomb were future archaeologist Indiana Jones, his teacher Helen Seymour, T.E. Lawrence, archaeologist Rasheed Sallam, and photographer Pierre Duclos.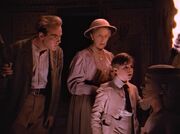 The tomb contained the Jackal headpiece, which was stolen by Demetrios, who also murdered Sallam who was standing guard. It was only after the murder that Jones, Lawrence, and Seymour realized that the headpiece had been there.
Originally suspecting that Duclos had committed the murder, Lawrence violently confronted the photographer, who admitted to having taken pictures with the intention of selling them to the newspapers, but also confessed that he did not commit the murder or steal the headpiece.
Community content is available under
CC-BY-SA
unless otherwise noted.