Young Indiana Jones: Trenches of Hell is the eighth film in The Adventures of Young Indiana Jones. It is edited from the episodes "Somme, Early August 1916" and "Germany, Mid-August 1916."
Publisher's summary
Edit
Having joined the Belgian Army to fight in the Great War under the pseudonym "Henri Defense," Indy witnesses horrific combat in Flanders that kills all of the commanding officers in his unit, leaving young Jones in command. The 9th Belgian Infantry unit is assigned to the French 14th Company, and thrown into the thick of the Battle of the Somme, in a vivid depiction of the terrible hell of trench warfare, including flamethrower and gas attacks.
On a brief leave, Indy meets English soldiers and poets Siegfried Sassoon and Robert Graves whose words crystallize for Indy the plight of the soldier in World War I. He soon returns to the front, where he and his fellow soldier Emile are taken captive by the Germans. Indy wastes no time attempting to escape, but his bold efforts only land him sent to the maximum security prison at Dusterstadt on the Danube. There, Indy meets a captive Charles de Gaulle, and together, the two conspire a clever plan to escape the inescapable fortress.
Appearances
Edit
Other characters
Edit
Locations
Edit
Collections
Edit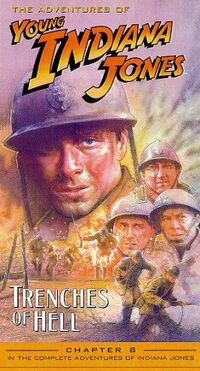 Companion Historical Documentaries
Edit
External links
Edit