I'm Jawajames. I'm a fan of Indiana Jones and like to focus on the Adventures of Young Indiana Jones, and some of the older Indiana Jones video games. I do some reporting on Indiana Jones news for Club Jade.
I also edit at Wookieepedia and occasionally at Memory Alpha, the Star Trek wiki.
Currently working on:
My most recent project:
My previous projects here on the Indiana Jones wiki have been:
And always, I'm: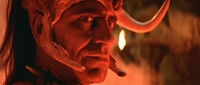 "Soon Jawajames will rule the world!"
This user is an
administrator
of the site. Any complaints, problems, or queries should be asked either on this user's
talk page
.