Standartenfurher Ernst Vogel-BiographyEdit
I am a huge fan of Colonel Ernst Vogel. Hence, the name. I have been collecting numerous items relating to Colonel Vogel, and quite personally, he is my absolute favorite charachter of all time. I have all of his membrobillia, most recently purchasing his Swagger Stick from one of Steven Spielbergs Costume workers on the last crusade. Colonel Ernst Vogel Rules! In addition, I make it my goal to edit all pages relating to Nazis and German officers, as I have an extensive history and study of German Society during World War II, and have had numerous teaching jobs involving World War II Germany, at a number of universities. On this Wikia, you will find that my contributions to the pages of German Commanders and German Locals will be extensive. I very much look forward to contributing to the Indiana Jones Wikia! Go Ernst Vogel!!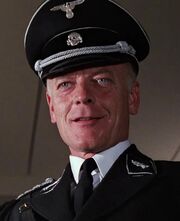 My Favorite Pages

Wiki Contributions So Far...
Ernst Vogel: Extensive remastering of pages, addition of 6 images, rare autographed photo, new details, and more! Check it out!
All Pages related to Nazi's & Germany-
To Many To List but here are some:
Second Mechanic
Heinrich Himmler
Berlin Bookburning Rally
Female Officer at Castle
Young Officer
Principal S.S. Officer
Useless Awards
Ernst Vogel Award-For superior excellence in the knowledge of Ernst Vogel!
Indiana Jones & The Last Crusade Award-Useless award for working on pages related to Indiana Jones & The Last Crusade.
Community content is available under
CC-BY-SA
unless otherwise noted.