"What Vic means to me, and to many of my contemporaries, is his capacity to do the impossible. He can make the wildly improbable seem totally credible. He can perform amazing feats, as well as planning them for other people to do safely."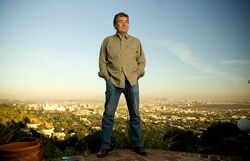 Vic Armstrong (born October 5, 1946) is a Taurus-award-winning British stuntman, stunt coordinator, second unit director and actor who was Harrison Ford's stunt double on the first three Indiana Jones films alongside wife Wendy Leech.
He served as a stuntman on Raiders of the Lost Ark, as stunt arranger on Indiana Jones and the Temple of Doom and stunt coordinator on Indiana Jones and the Last Crusade.[1] He also played a Nazi soldier in Raiders of the Lost Ark.
Armstrong doubled Ford again for Star Wars Episode VI: Return of the Jedi, Timothy Dalton in Flash Gordon and the late Christopher Reeve in the first two Superman films. He is one of the most profilific people to date according to the Guinness World Book of Records.
As a director, he worked on The Young Indiana Jones Chronicles episode Austria, March 1917, which was included in the Adventures in the Secret Service compilation release. He has also directed action films such as the Dolph Lundgren actioner Army of One (aka Joshua Tree) and 2014's Left Behind.
Armstrong wanted to return as Ford's double in Indiana Jones and the Kingdom of the Crystal Skull, but scheduling conflicts with The Mummy: Tomb of the Dragon Emperor made it unworkable. However, he had discussed possible action sequences with Steven Spielberg during the production of War of the Worlds.[2] Neverthless, in a 2014 interview, he stated in retrospective that he was happy for not having worked on Crystal Skull and that he enjoyed working just on the first three Indiana Jones films.[3]
Gallery
[
]
External links
[
]
Notes and references
[
]