Young Indiana Jones and the Attack of the Hawkmen is the second made-for-TV movie based on the television series The Young Indiana Jones Chronicles. It originally aired October 8, 1995, on The Family Channel. It was re-titled Attack of the Hawkmen for release on home video in 1999 as the twelfth entry in The Adventures of Young Indiana Jones. The home video edit is nearly identical to the broadcast version.
Publisher's summary
[
]
VHS release
[
]
Chapter 12 in the complete adventures of Indiana Jones finds Indy flying high with the Lafayette Escadrille before being shot down by the infamous Red Baron of Germany in this action-packed film.
Working with the French Secret Service, Indy joins the legendary Lafayette Escadrille flying unit and embarks on dangerous airborne reconnaisance missions behind enemy lines. A run-in with German Ace Manfred von Richthofen leads to a death-defying dogfight that leaves Indy grounded and hot-in-pursuit of German aircraft designer Anthony Fokker. Undercover in hostile enemy territory, Indy discovers that the Germans possess a remarkable secret weapon that could change the course of the war and he resolves to bring it back to the Allies...if he doesn't destroy it first.
DVD release
[
]
Indy returns from Africa with a changed perspective thanks to his time with Albert Schweitzer. Rather than wage war on bloody battlefields, he sees an opportunity to help end the great conflict by joining French Intelligence. His plan succeeds almost too well, as he is instantly assigned to the Lafayette Escadrille as a reconnaissance photographer -- a position with a notoriously short lifespan. The legendary flying unit consists of American volunteers flying under the French flag, engaging in daring dogfights against the enemy. In Indy's time with the unit, he comes face to face with German Ace Manfred von Richthofen, better known to history as the infamous Red Baron.
Indy's next intelligence assignment is again rooted in air superiority. The aviation genius Anthony Fokker's loyalty is reportedly for sale, and it's up to Indy to contact the designer and make him an offer. Outfitted with plenty of spy gear, Indy goes behind enemy lines to intercept Fokker, who is about to unveil a diabolical new air weapon.
Appearances
[
]
Characters
[
]
Locations
[
]
Collections
[
]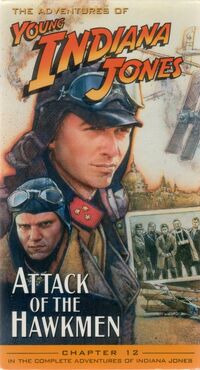 Companion Historical Documentaries
[
]
External links
[
]