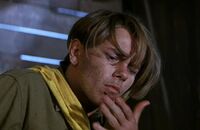 "The subject of this article was cancelled."
This article covers a film, book, comic or game that was cancelled or replaced by another product. Cancelled material is usually not
canon
; however, aspects of such material sometimes find their way into later products and thus become canon. You have been warned.
Young Indiana Jones at the World's Fair was intended to be an educational video game tie-in to The Young Indiana Jones Chronicles television series developed by Lucas Learning. It ultimately went unreleased.
Appearances
[
]
Characters
[
]
Events
[
]
External links
[
]